About C Dowler Dip WCF
Professional, Friendly & Reliable
---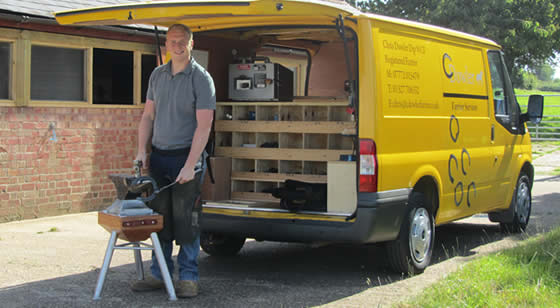 Farrier Services
Problems within the hoof account for a large proportion of equine lameness. When this happens we have the knowledge and resources to correct the problem as soon as possible.

Some lameness cases will require the skills of both a farrier and a veterinary surgeon. When this happens clear communication and cooperation is key to quick recovery time.

Every equine has its own individual requirements. We pride ourselves on being able to identify the right path for your horse, whether that be hot or cold shoeing with steel or aluminium or bare foot trimming.
About Me
---
Horses have been a part of my life for as long as I can remember. Both my parents have always ridden, along with myself and sister. It was at an early age that I came across the farrier profession and shortly after, decided that this was the career that I wanted to follow.
After doing my school work experience with the family's farrier, I knew this was the path I would follow for certain; it was simply a matter of finishing school and college so I could start my training.
The Apprenticeship
To be able to start a farrier apprenticeship all applicants must first complete a pre-farrier course. This is a one year academic course that gains you a forging certificate and first diploma in equine science. I studied at Warwickshire College Moreton Morrell for a year, achieving a distinction as a final grade. As part of the course there was three weeks of work experience with a registered farrier, pleased with my work they offered me a full apprenticeship where I would train for a further 4 years.
During this apprenticeship I was encouraged by my Training Farrier to compete in shoe making competitions to further my skills. In my final year I proudly won the Royal Welsh Apprentice Shoemaking competition, representing Wales in the Apprentice International Team horseshoeing competition at Stoneleigh show ground.

Qualified – Starting on my own
After completing my final exams at college I was awarded a Diploma of the Worshipful Company of Farriers, then started working independently shortly afterwards where I have continued to work and develop ever since.
Although many parts of the farrier trade have remained the same for centuries, there are always improvements in the science and techniques to continue to develop the high standard of the skill. To maintain my continued professional development I always attend clinics and seminars to find new products and skills that can help with everything from everyday shoeing, to specialist and remedial cases. This way of development is key to getting the most out of my career and ensuring that every day is varied and enjoyable as possible.
---